Quantum Resonance App (aka "mandala")
Quantum technology for boosting immunity and vitality.
Includes 5 digital (audio and image) files. The energetically encoded files can be used offline with any smart phone, tablet, laptop, pc, mac or mp3 player. 
"[U]pon first use I felt a lot of warmth all over my body, and some pain relief in my legs. I intend on using it regularly and see what happens. Seems very strong . . . .  I felt a lot of relaxation and kind of a bliss body feeling."
~ Jackie Skains Jonassen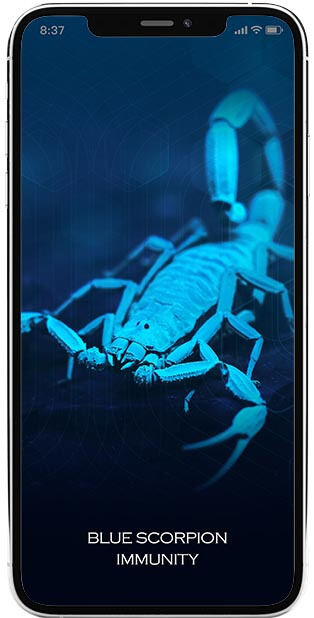 Blue Scorpion Immunity features the energetic signature of unique peptides derived from blue scorpion venom.
Cancer patients from around the world have been travelling to Cuba for years to be treated for cancer with venom extracted from the blue scorpion, also known as the scorpion species Centruroides gracilis.  
The venom of blue scorpions is nontoxic to human beings. It's very expensive and challenging to harvest. In fact, blue scorpion venom is considered to be one of the most expensive liquids on the planet, with an estimated value of $39 million per gallon.
Scientific research has found that when the venom is metabolized into an enzyme, it possesses 36 amino acids and 59 minerals that neutralize free radicals and establish anti-aging benefits. This unique venom peptide stimulates the natural production of collagen, which supports youthful skin and reduced wrinkles.
Blue scorpion venom naturally strengthens immunity, general vitality, youthful skin and pain management for select health conditions (including rheumatoid arthritis and general joint pain).
Blue Scorpion Immunity features the amplified quantum (i.e., sub-atomic) signature of this unique blue scorpion venom peptide, and it allows you to experience many of the benefits of blue scorpion venom in much safer modality and at a mere fraction of the normal cost.
Once purchased, you can experience these benefits for the rest of your life, without having to purchase a new supply every month: maximum benefits and safety for minimal cost!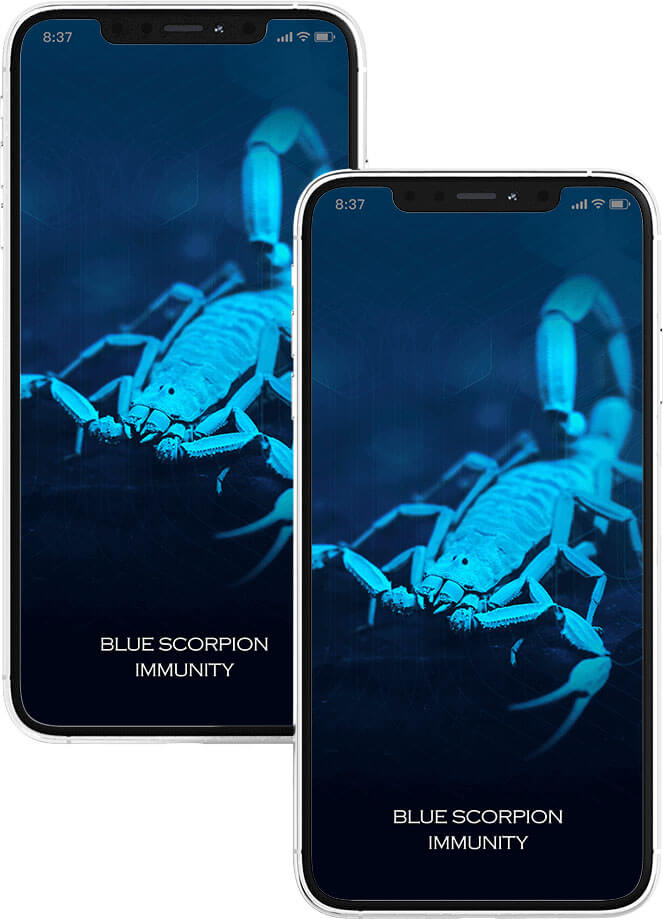 This breakthrough substance and signature helps your body defend against invading bacteria and viruses. And in the case of viruses, it reinforces the immune system in such a way as to prevent them from entering the cell. It also improves overall energy levels and general well-being.
To be clear, blue scorpion venom does not necessarily prevent you from getting sick, but it does significantly increase ability to fight off the virus more quickly and easily.
Blue scorpion peptides contain antioxidants, amino acids and enzymes that naturally support the body's immune system, with additional benefits for promoting morning vitality, maintaining energy levels and supporting daily quality of life.
Regenerate: Naturally detoxify your body with the energetic signature of amino acid building blocks that support and empower your immune system responses.
Revitalize: Significantly amplify your vitality, energy and quality of life.
Restore Joint Health: Support flexibility, healthy joints, cartilage and comfortable movement.
Anti-inflammatory Support: The unique venom extract associated with this quantum signature helps reduce pain associated with rheumatoid arthritis and joint and back pain.
Anti-Cancer Potential: Although this research is currently inconclusive, some scientists believe that this unique venom peptide may inhibit cancer cell growth by binding to them.
Blue Scorpion Venom & Science
THE BLUE SCORPION IMMUNITY PACKAGE
5 Energetically Encoded Digital (Audio and Image) Files + Web App
These quantum signatures were derived from blue scorpion venom peptides.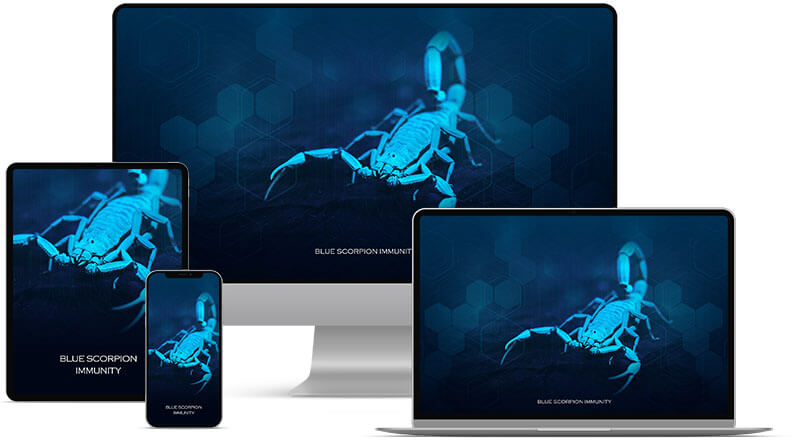 Quantum Resonance App (in four formats)
Simply put, our Quantum Energy Apps are energetically encoded digital pictures that transform your electronic devices into quantum resonance tools that support you for greater health, well-being and peak performance.
Energetically encoded digital images
Encoded with the energy of Blue Scorpion Immunity
Amplifiable – Amplify the energy broadcast to be as strong as you like.
Completely silent – No audio or headphones necessary
Can be used anywhere
Set and forget it
Usable on any smart phone, tablet, laptop, pc or mac.
Although at first glance these apps look like nothing more than digital image files, they are encoded with powerful quantum frequencies that infuse your biofield with healing energy simply by opening them on any compatible device or printing them using any kind of home printer.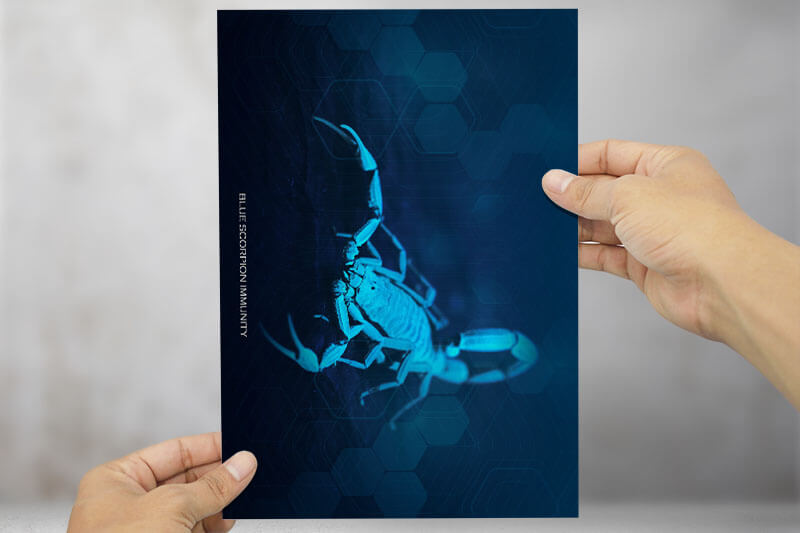 The Printable PDF version can be printed using any desktop printer, and the prints will carry the amplified energetic signature of the app. The following are just a few of the unique and versatile ways you can use the prints:
Place the prints under your seat cushions, mattress and pillow.
Place the prints under any power cord (printer, computers, power strip, lights, etc.).
Place the prints under refrigerator cord and/or inside refrigerator: the energy will be infused into your food.
Tape the prints to your fuse box: the energy will be carried by everything in your home that is powered by electricity.
Fold the print and carry in your pocket.
Charge food, water and supplements.
A single print is very strong. But the more prints you stack together, the stronger the energy will be.
The Silent Energy Audio comes in 320 kbps MP3 format and can be played on any mp3 player or mp3-compatible device or media application. Just push Play, and the energy of Blue Scorpion Immunity will immediately begin broadcasting through your device. Play it silently on repeat throughout the day whenever you want to boost your immune system.
Play on repeat in the background as you go about your day.
Although there is no sound, playing this silent audio produces a VERY strong broadcast of energy.
VERSATILE: The Silent Energy Audio can be combined with your favorite audio and video to create a powerful energetic experience with your favorite music and movies. Simply play the Silent Energy Audio on your chosen device. Then, on the same device, open and play your favorite music or movies using the media player or streaming service of your choice. Now, your favorite music and movies carry the energy of Blue Scorpion Immunity.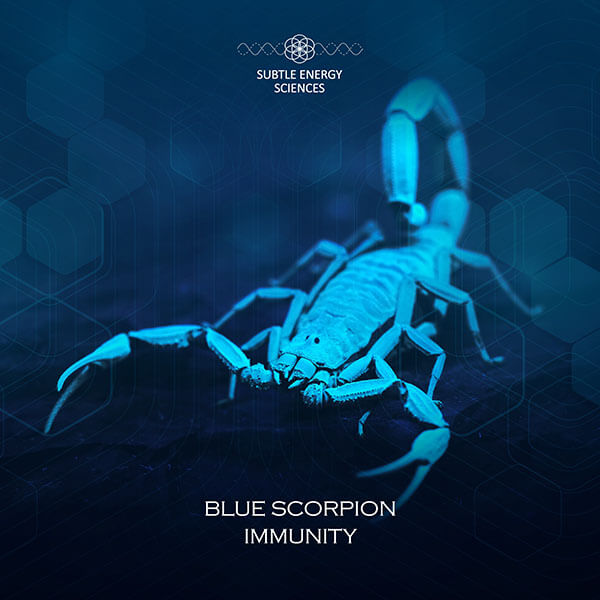 Energetic Encoding Technology
Powered by Energetic Encoding Technology
"I started the day at 4:30 am and past midnight I was still going strong. I feel energized and clearheaded with this playing."
~ Michael Halbfish
"Am loving the Anti-inflammatory effects from this upgrade using one silent audio and 2 mandalas."
~ Anthony Harden
"I find it deeply calming and I am much more able to concentrate. I like to put it on when I'm studying."
~ Olivia Louise
"Blue Scorpion came to my rescue again! I had a very sharp pain in the side of my head when I went to bed. I was unable to sleep because of it and about 2am suddenly remembered Blue Scorpion. I loaded 2 copies of the mandala on my phone and it stopped immediately. I had it placed so that I could rest my wrist on it and went to sleep. Some time later I woke and thought I could move my phone back to the bedside table. Immediately I felt a jolt of the same pain so put the phone back where it had been and went back to sleep. This morning I have only felt a few gentle twinges."
~ Bren Da
"I had one mandala on first and within 3 minutes, felt tingling and a sense of contraction and then release on the back of my neck, and then under my shoulder blades. Then, about 5 minutes later, I opened a second mandala and the tingling and slow pulsing of contraction and release continued to my lungs and then my lower back. I felt like the areas where I held tension in my body were highlighted and released. I had both mandalas on for about 30-35 minutes total and sat up feeling refreshed, energized and spacious. Thanks so much!"
~ Pete Lee
"When I use the mp3 in combination with the large mandala my breathing also becomes more deep and calm, as it does in meditation, and I have a feeling of being more (naturally) high, calm, & clear – the same mental, calming benefits I experience during yoga and mediation."
~ James Kinney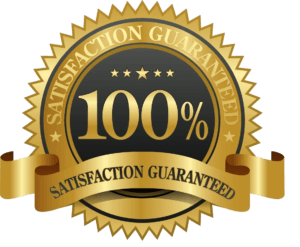 90 Day Satisfaction Guarantee
Still unsure? Don't decide now. Take all the time you need and try it for a full 90 days. If for any reason you're unsatisfied with your experience any time within 90 days of purchase, simply email us, and we'll refund your money immediately after verifying that you tried using the program.
Quantum Resonance App (aka "mandala")
Quantum technology for boosting immunity and vitality.
Includes 5 digital (audio and image) files. The energetically encoded files can be used offline with any smart phone, tablet, laptop, pc, mac or mp3 player. 
"[U]pon first use I felt a lot of warmth all over my body, and some pain relief in my legs. I intend on using it regularly and see what happens. Seems very strong . . . .  I felt a lot of relaxation and kind of a bliss body feeling."
~ Jackie Skains Jonassen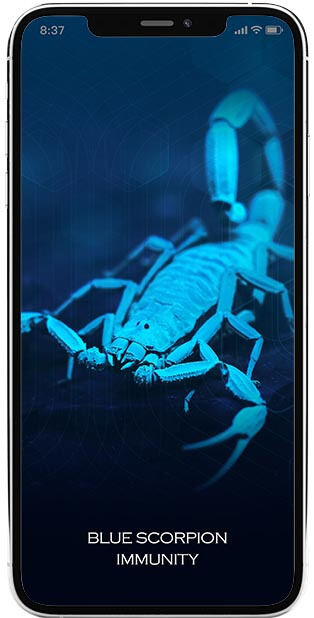 DISCLAIMER: These results may not occur for everyone. These products are powered by subtle energy, and some individuals may be less sensitive to subtle energy (and to this product as well) than others. In fact,  roughly 20% of individuals who try this kind of technology initially experience little to no effect, unless they amplify the energy of the products substantially. Even then, a smaller percentage of people will still fail to notice a huge effect. Again, this appears to be due to the fact that sensitivity to subtle energy varies among individuals. Many people respond very strongly to this technology, and some do not. That said, this technology and its results are fully amplifiable using easy-to-follow instructions provided on the product download page and on our official Instructions page (https://subtle.energy/instructions). And this amplification capacity means that, if you don't experience your desired results in the beginning, you can easily amplify the energy of this product until you finally achieve the results you desire. And if the amplification still doesn't produce the results you're looking for, we offer a pain-free 90-day money-back guarantee should you find that this product does not produce your desired results.
Furthermore, given that we recognize some of the limitations of this technology as it relates to the aforementioned subtle energy insensitivity threshold, we are especially dedicated to improving this technology and making it more effective for more and more people, no matter their sensitivity or insensitivity to subtle energy. We believe it is possible to eventually overcome this hurdle, which is why we continue to upgrade this technology and all of our products every year or two. And to show our immense gratitude for being able to develop this technology for our customers, we offer every upgrade free to existing owners of those products. That means that if you purchase this product, every time we improve it and increase effectiveness, we will send you that upgraded product for free, no matter how many upgrades it may receive over the years.
All that being said, we sincerely appreciate your business and support, and we gladly honor our 90-day money-back guarantee, no questions asked.
Subtle Energy Sciences products are not meant to diagnose, treat or cure any health condition, nor make or imply any health claims.