Increase Your Body's Flow of Life-Enriching Oxygen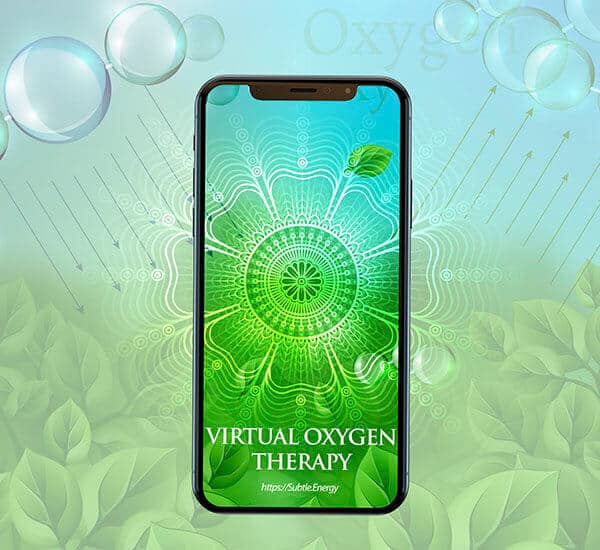 This energetically encoded digital media program emits the amplified energetic signature of pure oxygen through your electronic devices to support increased oxygen flow in the brain and body. No expensive oxygen tank needed with Virtual Oxygen Therapy!
For anyone who wants to safely and easily increase oxygen flow (without an oxygen tank).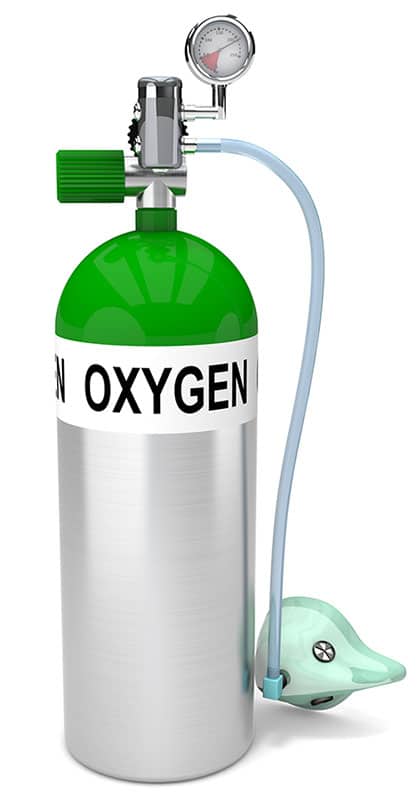 Here is what you can expect:
In healthy people, increased oxygen to the brain can improve performances on tasks that require great mental effort, in addition to slowing the rate of fatigue for people who easily get tired (often a sign of oxygen deficiency).
Similarly, increased oxygen to the brain can stimulate better blood flow throughout the body and enhance motor skills.
At even higher levels, increasing the level of oxygen in the brain has dramatic effects on your health.
According to research by Tel Aviv University, there seems to be a connection between hyperbaric oxygen and improvements in brain functioning after brain damage.
Some of the benefits of such dramatic increases in oxygen to the brain include:
Symptoms of Oxygen deficiency:
Easily get tired
Acute fatigue
Body weakness
Dizziness
Depression
Hard to focus which could lead to memory lost
Circulation problem
Digestion problem
Acid stomach
Muscle pains
Irritability
Lung problem
Weak immunity system so easily infected by viruses, bacteria and etc.
Chronic diseases
Oxygen Supplementation can...
Improve brain function
Enhance cognition and behavior
Enhance motor skills
Aid in detoxification
Enhance cell tissue repair
Improve sleep
Prevent the development of cancer cells
Prevent heart disease
Prevent epileptic seizures
Prevent diabetes
Prevent asthma
Enhance overall energy
Stabilize the nervous system
Improve the immune system
Enhance the digestive system
What is Virtual Oxygen Therapy?
Virtual Oxygen Therapy is a unique technology and program that combines energy medicine with innovative digital media.
Using a proprietary process developed by Subtle Energy Sciences founder Eric W Thompson, Virtual Oxygen Therapy broadcasts the amplified energetic signature of pure oxygen through your electronic devices to support increased oxygen flow in the brain and body.
You might think of it as a kind of "amplified digital homeopathy," but it's far more powerful than traditional homeopathy.
Simply open the Virtual Oxygen Therapy digital file (in audio, video or picture file format, whichever format best suits your needs), and these energetically encoded digital files will automatically transmit the amplified energetic wave pattern of oxygen through your phone, tablet, computer or laptop. By replicating the precise wave-like properties of oxygen directly into the human biofield via subtle energetic resonance, increased oxygen flow can be experienced in the brain and body.
Plus, unlike other oxygen supplementation therapies, you only need to purchase Virtual Oxygen Therapy once in order to benefit from it for the rest of your life!
Sound impossible? Too good to be true?
It isn't. It's here.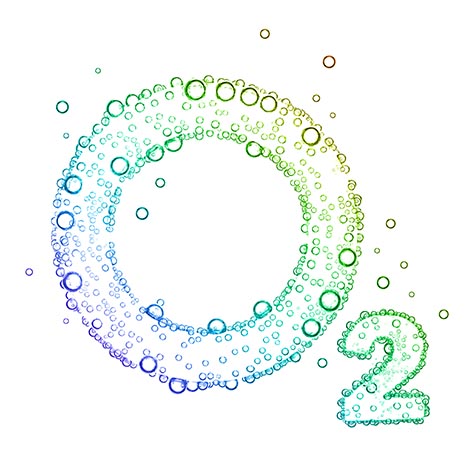 Virtual Oxygen Therapy: Energetic Signatures
There are two basic energetic signatures that comprise the Virtual Oxygen Therapy program:
Science tells us that we live in a virtual sea of invisible fields of influence that impact our daily lives in profound ways, yet we typically have little or no conscious awareness of them. 
In Science, these phenomena include…
Earth's Geomagnetic Field
The activity of the Earth's geomagnetic field, which has been shown to be correlated with various emotional and psychological states in human beings.
Electromagnetism
Electromagnetism initiates the attraction of positively charged protons to negatively charged electrons in human cells.
Nuclear Force
The strong nuclear force, which is more powerful than electromagnetism and therefore holds positively charged protons together within the atomic nucleus.
Biophoton Field
The biophoton field in plants and animals, which is believed to be the chief means of communication between DNA molecules across the entire body of a plant, animal or human.
These and other forces play crucial roles in our lives. And if it weren't for science informing us of their influence, most of us would remain entirely unaware of their existence.
In the early years of science, for example, the scientific community could not directly detect or measure electromagnetism, yet science knew it existed because it could detect its effects on other objects. The same can be said of "subtle" energies. While it is currently not possible to directly detect or measure subtle energy using conventional electromagnetic instruments, it is possible to detect and measure its effects on living organisms.
The emerging science of subtle energy reveals the existence of energies that exist beyond the four known forces of conventional science (the strong nuclear force, weak nuclear force, electromagnetism and gravity). These energies are faster than light and typically unable to be measured using electromagnetic instruments; hence the term "subtle energy".
Energetic Encoding Technology
What is an Energetic Signature?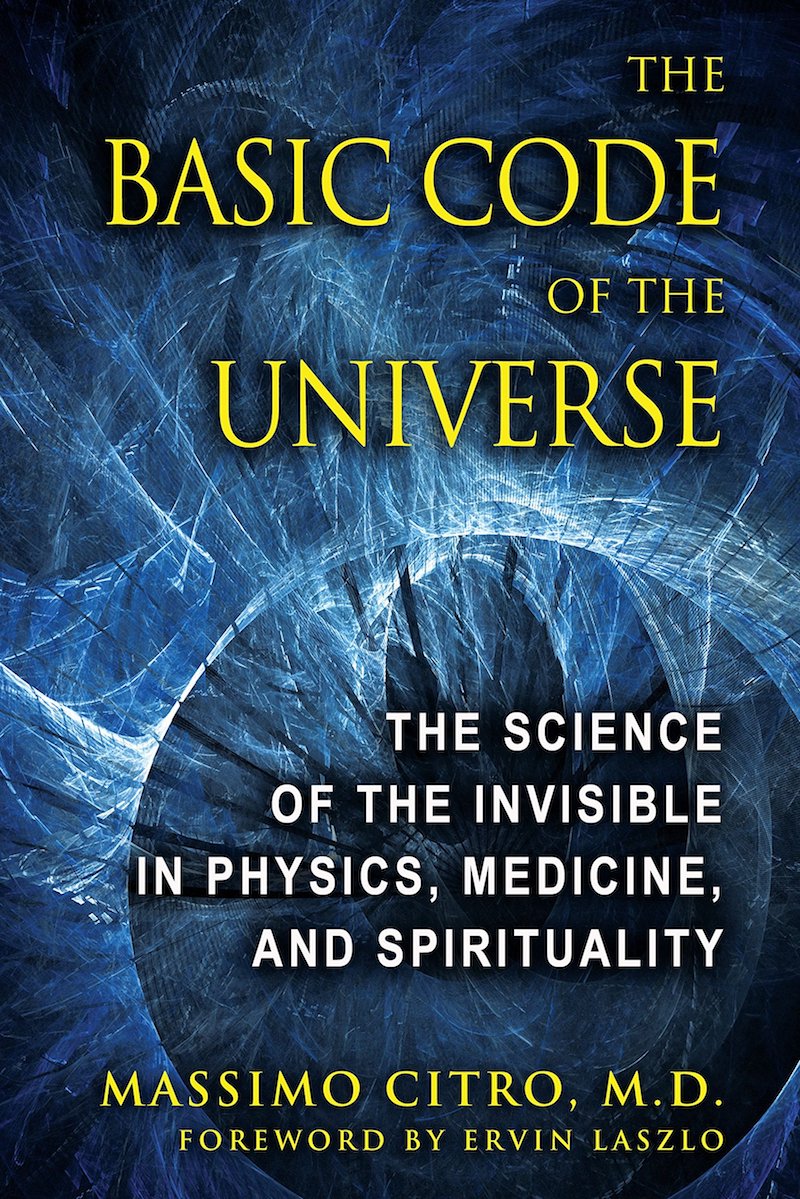 In his book, The Basic Code of the Universe, Dr. Massimo Citro speaks of a basic governing "code," made up of "the ensemble of information that allows bodies to exist, the blueprint of the construction." This code can be thought of as having both an informational component and an energetic component, the former informing a particular substance how to "be" itself, and the latter providing the subtle vehicle for the flow of that information. It is this basic governing code that we refer to as the "energetic signature" of a substance.
Every substance has an innate energetic signature, an informational component that quite literally informs it and enables it to be what it is. The founder of Subtle Energy Sciences, Eric W Thompson, has developed methods and processes for digitally capturing such energetic signatures and encoding them into digital media in such a way that allows such digital media to broadcast these energetic signatures and thereby promote their benefits without actually having to ingest the substances themselves.
The Energetic Encoding Production Process
This is our proprietary 3-step process to encode Subtle Energy Signatures into digital media:
Extract with Proprietary Software
First, we capture and extract the energetic signature (of a substance, intention or shape) digitally using a combination of quantum energy techniques derived from the study of sacred geometry, shape power, homeopathy, radiesthesia, radionics, energy healing and quantum physics.
Amplify with Scientific Process
This is all done using a very scientific and replicable process. Once we've captured the initial energetic signature digitally, we amplify that original extracted digital signal billions and billions of times in a balanced way.
Encode with Embedded Signature
The final step is to encode the amplified energy signature into digital media (including audio, video, and image files) in such a way that when the digital media file is opened on a computer, tablet or phone, it will emit the energy of that signature through the electronic device.
Explore scientific studies that show the power of Subtle Energy products...
"I've been a connoisseur of exotic subtle energy technologies for years, and I can tell you that each of the audios and mandalas contains energies that are as high in quality and potency as those found in other subtle energy products costing ten or even a hundred times the price or more! I've paid as much $3,000+ for other subtle energy products that aren't nearly as powerful, versatile or effective as our newest Energetically Encoded Images, Audios & Videos."
What our customers are saying....
"I continue to experience persistent and noticeable benefits from Virtual Oxygen Therapy. Examples include deeper and more restful sleep, and stronger and clearer experiences of the meditative state.I also am recovering faster than I have previously from my gym workouts. I use Virtual Oxygen Therapy before, during, and after my workouts. Virtual Oxygen Therapy has a lot of potential to improve a person's energy and sense of well being as they go through their day."
"Virtual Oxygen Therapy is great for daily use! Its effects occur immediately and mount over long term as well! Good for workout stamina and recovery, breathwork meditation, increasing health and wellbeing. Also good for increasing positive attitude and overall energy level. I sleep better and feel more rested! Not a subtle product at all for me, feels robust and powerful!"
"Virtual Oxygen is brilliant. I'm doing some Wim Hoff breath work right now and this really assists. I feel energized, optimistic and ready to get things done."
"Long term with Virtual Oxygen Therapy has helped my focus & concentration and I seem to be needing less sleep."
"Virtual Oxygen Therapy is a keeper . . . powerful!"
"Virtual Oxygen Therapy most certainly helps with any breath work. It seems to open the airways and makes deeper breathing so much easier without any effort. It also seems to bring a clarity of mind and generates more energy within the body."
"When I got back to home, started to play Virtual Oxygen Therapy and it really surprised me, in first minute I started to breath much deeper in chest it felt like breeze of fresh air, after couple of minutes my nose started run, couple minutes ago it was extremely dry and completely clogged! I finally could blow out all dirt and dust. Left VOT on loop through the night and my breathing was calm and deep, sleep refreshing. This is a real game changer. Thanks Eric!"
Try the Virtual Oxygen Therapy Audio Demo
We recommend using headphones for optimal results, though they aren't absolutely necessary.
The audio makes up just one aspect of the Virtual Oxygen Therapy program. And the energy encoded into this demo is very subtle due to the fact that even the particle aspect of oxygen is quite subtle when supplemented physically. As such, Virtual Oxygen Therapy offers best and most striking results when used consistently for one or more hours per day, every day, over the long term. In addition, the energy of Virtual Oxygen Therapy is fully amplifiable when using the energy medicine app on a computer, laptop or mac, or also by combining the energy medicine app with the Virtual Oxygen Therapy audio and printable PDF file.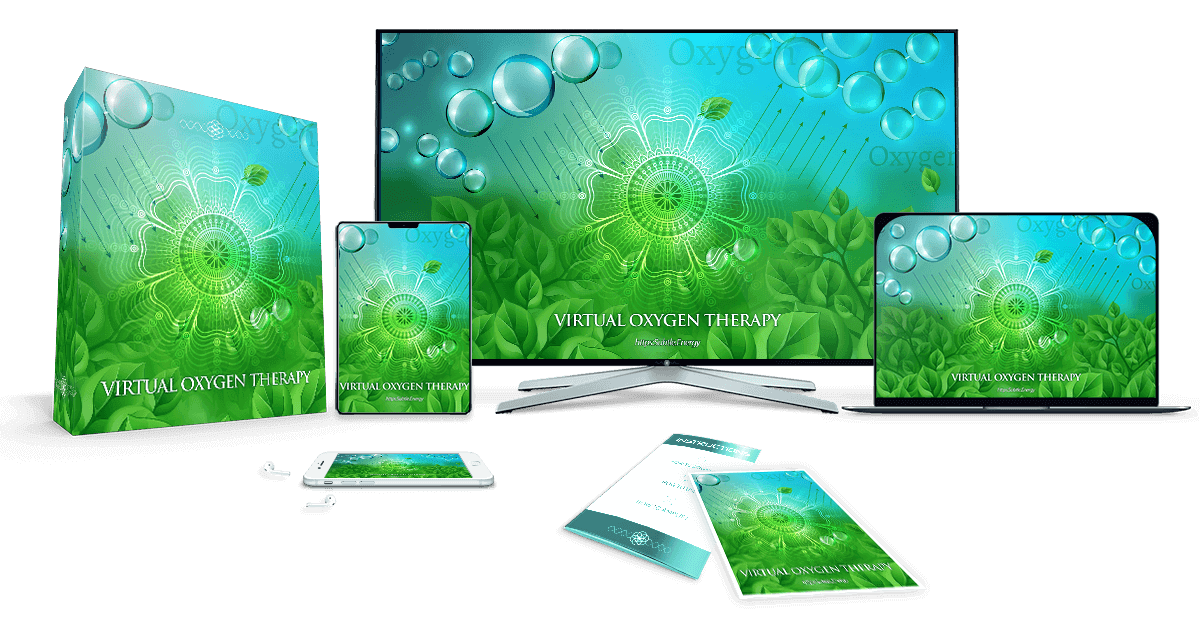 The Virtual Oxygen Therapy Package
A full digital media program energetically encoded with the ultra-amplified energetic signature of Virtual Oxygen Therapy.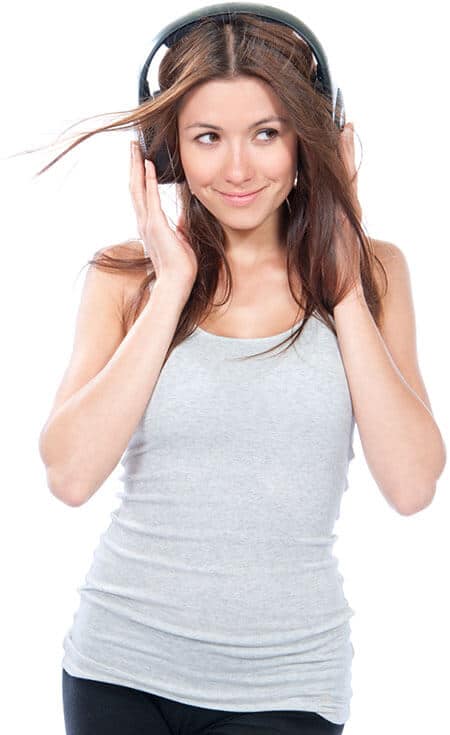 Mild Quantum Energy App (aka "Mandala")
Comes in four formats (large computer screen, small computer screen, phone          screen and PDF printout)
Use this if you are exceptionally sensitive to the Virtual Oxygen Therapy energy or to otherwise       reduce the amplification of the Virtual Oxygen Therapy energy.
Regular Quantum Energy App (aka "Mandala")
Comes in four formats (large computer screen, small computer screen, phone          screen and PDF printout)
Very strong in amplitude.
20-min Audio
Is even stronger in amplitude than the regular mandala.
Soothing nature sounds recorded in 3D audio.
Comes in mp3 format.
60-min Audio
Is even stronger in amplitude than the 20-min audio.
Soothing nature sounds recorded in 3D audio.
Comes in mp3 format.
Silent Energy Video (5-min)
Is even stronger in amplitude than the 60-min audio.
Comes in mp4 format.
Set to Repeat, minimize the video and work in other windows as the silent energy video silently broadcasts the energetic signature of Virtual Oxygen Therapy through your device.
1-min Ultra-Strength Silent Energy Track
The strongest amplitude of all the components.
Comes in mp3 format.
Set it to Repeat and use it to radically amplify the energy of Virtual Oxygen Therapy.
Get Virtual Oxygen Therapy Now
Includes 12 Energetically Encoded Digital Files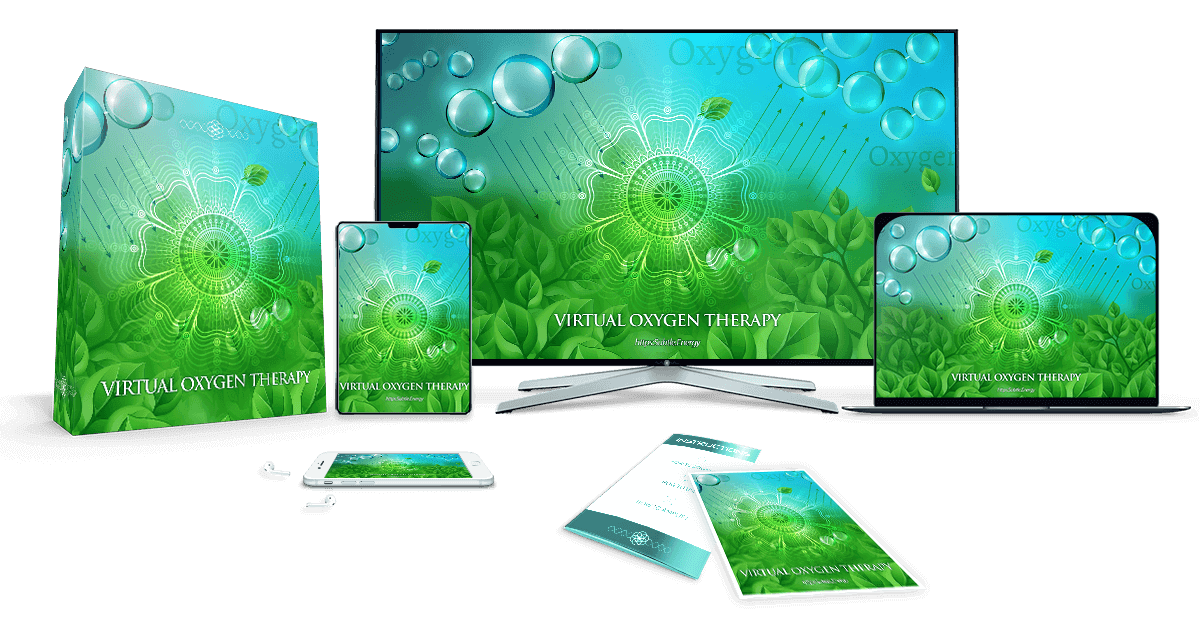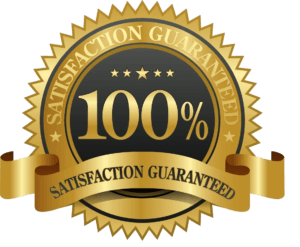 90 Day Satisfaction Guarantee
Still unsure? Don't decide now. Take all the time you need and try it for a full 90 days. If for any reason you're unsatisfied with your experience any time within 90 days of purchase, simply email us, and we'll refund your money immediately after verifying that you tried using the program.
"For the past couple days I've been saturating myself with Virtual Oxygen Therapy mostly everywhere I go I have it on. Recently I noticed more energy after I awake and through my day which has been great. Now yesterday I had done a little workout that should have definitely left me drained today like its done in the past, but I had decided to also run together with VOT the AR on a separate phone. And today I feel like I never even worked out, mind you the soreness is present but lack of energy is not visible. I feel great today."
"I used Virtual Oxygen Therapy for three days straight on my pc at home and I used radionics when I was out by putting my picture on the computer screen. In the morning I felt very energized and clear, and not stressed before going to work. I was extremely focused at work, I felt very relaxed while executing all of my goals i had set and now I'm ahead of my schedule. My commute one way is 1 1/2 hours, I did get tired during the drive but it wasn't as bad as before. Eric, love the VOT it works."
"I just opened up one ULTRA audio and one regular 20-min audio w/ the sound playing. I've had it running now for only 10 to 15 minutes, and I already feel a very pleasant, relaxed focus. I update later when I find out how long I can keep it like this before reducing the amplification to the regular or mild mandalas."
"Virtual Oxygen Therapy is definitely one of the most powerful of your programs. Just want to bask in it's glow. Feel really good around it."
"What I am aware of with Virtual Oxygen Therapy is enhanced memory and less overwhelm in my present 'task oriented' situation. Also, I seem to be sleeping longer, with less interruption. I run mostly 5-min video and 1-min silent along with images & audios."
"Virtual Oxygen Therapy is something else. Since the released, I have noticed that my facial skin is smoother and cleaner. Normally I get mild adult acne breakouts pretty much every week but this time is different, don't know if it's related but I'm only getting the Odd one here and there and days without it, a huge and big improvement skin wise. Energy levels when using all day is off charts, as I get up early mornings and need lots of stamina this is the one that comes to the rescue, so refreshing and don't feel tired at all, the VOT is a winner and a keeper. Thanks Eric for another superb product."
"Virtual Oxygen Therapy silent video is really powerful! I'm loving the way I feel from it. I seem to benefit greatly from this. It's giving me more focus and improvement of my performances. I usually feel a bit tired and need a nap around this time of day yet right now I'm just plowing through the tasks at hand and feeling inspired. Also, seems to be improving my breath."
"Eric recommended: 1) Using Virtual Oxygen Therapy for long periods of time; and 2) Amplifying it significantly, at first, until you become convinced that it is indeed increasing oxygen flow in your brain and body; then cut the amplification back to a maintenance level. I chose to open 3 copies of VOT 5min-Silent-Energy-Video and run them all night. With this action over the past 4 nights I have observed waking 60 +/- minutes earlier since employing VOT. I have noticed awakening more refreshed and very relaxed. Since I am employing other SES products through the day, I prefer beta testing VOT during the evening and night. Well done Eric! I feel this product will be helpful for everyone since vital oxygen is so important for robust health and vitality."
DISCLAIMER: These results may not occur for everyone. These products are powered by subtle energy, and some individuals may be less sensitive to subtle energy (and to this product as well) than others. In fact,  roughly 20% of individuals who try this kind of technology initially experience little to no effect, unless they amplify the energy of the products substantially. Even then, a smaller percentage of people will still fail to notice a huge effect. Again, this appears to be due to the fact that sensitivity to subtle energy varies among individuals. Many people respond very strongly to this technology, and some do not. That said, this technology and its results are fully amplifiable using easy-to-follow instructions provided on the product download page and on our official Instructions page (https://subtle.energy/instructions). And this amplification capacity means that, if you don't experience your desired results in the beginning, you can easily amplify the energy of this product until you finally achieve the results you desire. And if the amplification still doesn't produce the results you're looking for, we offer a pain-free 90-day money-back guarantee should you find that this product does not produce your desired results.
Furthermore, given that we recognize some of the limitations of this technology as it relates to the aforementioned subtle energy insensitivity threshold, we are especially dedicated to improving this technology and making it more effective for more and more people, no matter their sensitivity or insensitivity to subtle energy. We believe it is possible to eventually overcome this hurdle, which is why we continue to upgrade this technology and all of our products every year or two. And to show our immense gratitude for being able to develop this technology for our customers, we offer every upgrade free to existing owners of those products. That means that if you purchase this product, every time we improve it and increase effectiveness, we will send you that upgraded product for free, no matter how many upgrades it may receive over the years.
All that being said, we sincerely appreciate your business and support, and we gladly honor our 90-day money-back guarantee, no questions asked.
Subtle Energy Sciences products are not meant to diagnose, treat or cure any health condition, nor make or imply any health claims.