Quantum Resonance App (aka "mandala")
A complete immune-boosting formula powered by quantum technology.
Includes5 digital (audio and image) files + online web app. The energetically encoded files can be used offline with any smart phone, tablet, laptop, pc, mac or mp3 player. The web app can be used online, without needing to download anything, via any Internet-compatible device.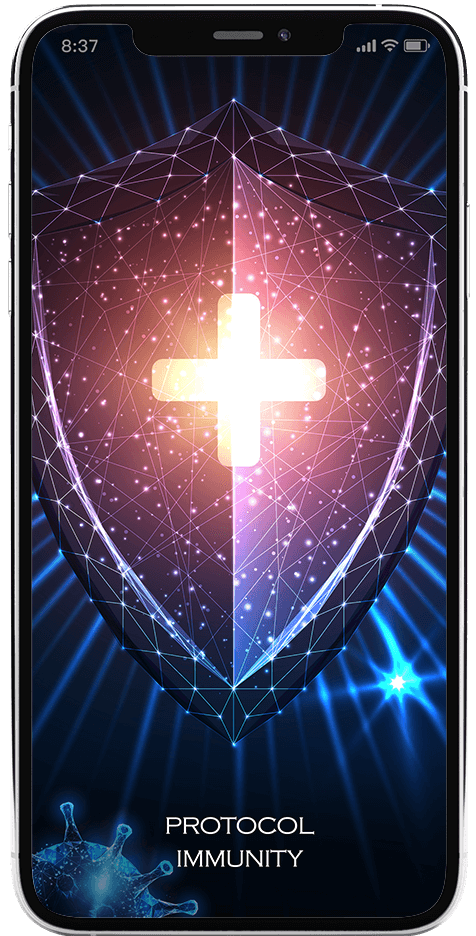 Protocol Immunity is a comprehensive immune system builder powered by quantum energy technology.
The quantum technology featured in Protocol Immunity is derived from a nutritional protocol made famous by the proven work of an American-Israeli doctor who has worked extensively with patients in the field, with stunning success.
After many years of working with his patients, he designed a nutritional formula for supporting the natural defense system of the body, which has been used successfully to act as a prophylaxis (or preventative measure) against viral infection.
Protocol Immunity captures the quantum signature associated with this powerful formula and broadcasts it through your computer, laptop, phone, tablet or mp3 player.
Welcome to the wonderful world of 21st century quantum healing technology.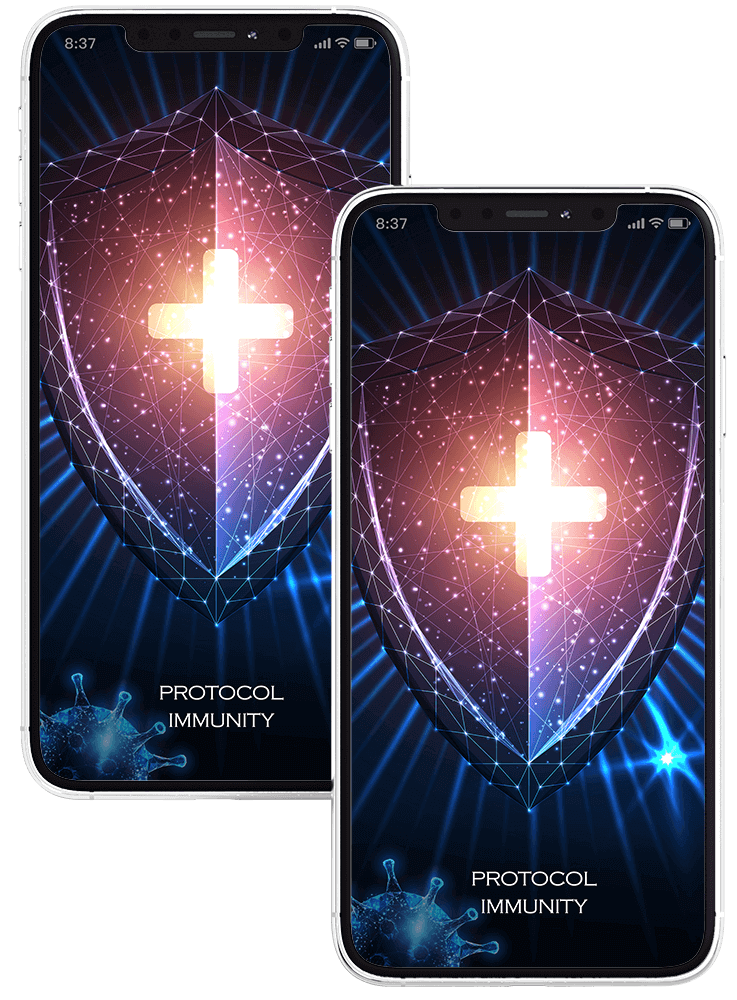 This formula is considered to be a complete immune-boosting super formula that promotes overall immune health:
Vitamin C supports the production of white blood cells called lymphocytes and phagocytes, which boost the body's defense against infection. It is also an essential part of the skin's defense system. It's actively transported to the skin, where it can act as an antioxidant and help strengthen the skin's barriers.
Vitamin D3 helps modulate both adaptive and innate immune responses via receptor sites on the surface of B- and T-cells, two classes of immune cells. Vitamin D deficiency has been shown to be associated with increased risk of viral infection. Deficiency in Vitamin D is also known to inhibit the maturation and health of white blood cells, the body's defense system.
Quercetin: Recently published scientific research shows that quercetin is a safe and effective agent for reducing inflammation and enhancing immune function.
Zinc boosts the immune system and activates enzymes that break down proteins found in viruses and bacteria. And because Protocol Immunity uses the quantum signature of zinc (rather than the physical form of zinc), there is no danger of toxicity.
THE PROTOCOL IMMUNITY PACKAGE
5 Energetically Encoded Digital (Audio and Image) Files + Web App
These quantum signatures were derived from physical samples of Vitamins C, D3, quercetin and zinc. These signatures also contain samples derived directly from the quantum field, as this method generally produces the purest signature possible.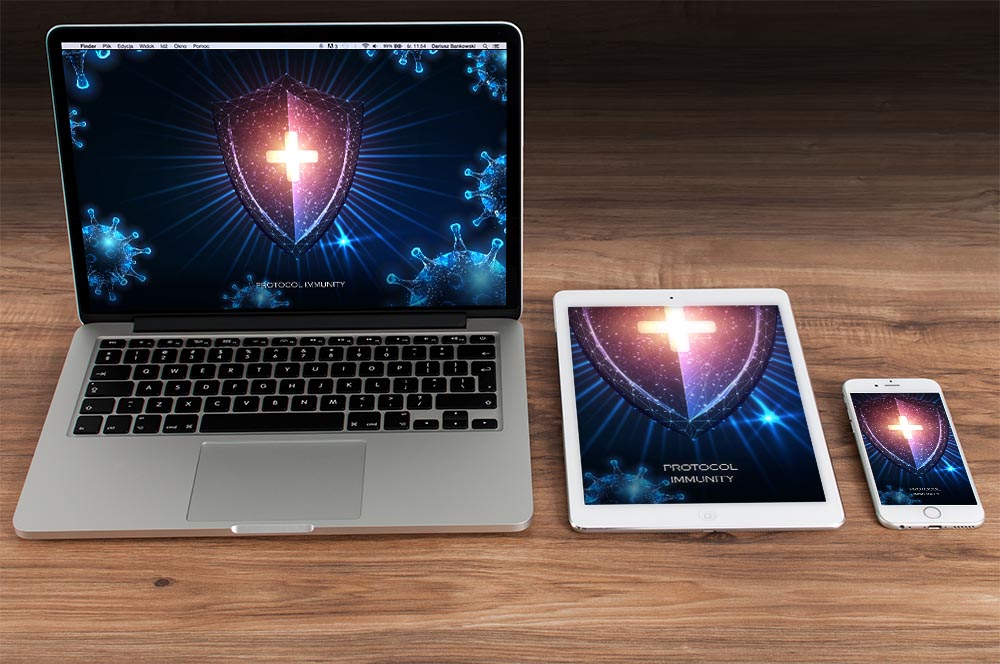 Quantum Resonance App (in four formats)
Simply put, our Quantum Energy Apps are energetically encoded digital pictures that transform your electronic devices into quantum resonance tools that support you for greater health, well-being and peak performance.
Energetically encoded digital images
Encoded with the energy of Protocol Immunity
Amplifiable – Amplify the energy broadcast to be as strong as you like.
Completely silent – No audio or headphones necessary
Can be used anywhere
Set and forget it
Usable on any smart phone, tablet, laptop, pc or mac.
Although at first glance these apps look like nothing more than digital image files, they are encoded with powerful quantum frequencies that infuse your biofield with healing energy simply by opening them on any compatible device or printing them using any kind of home printer.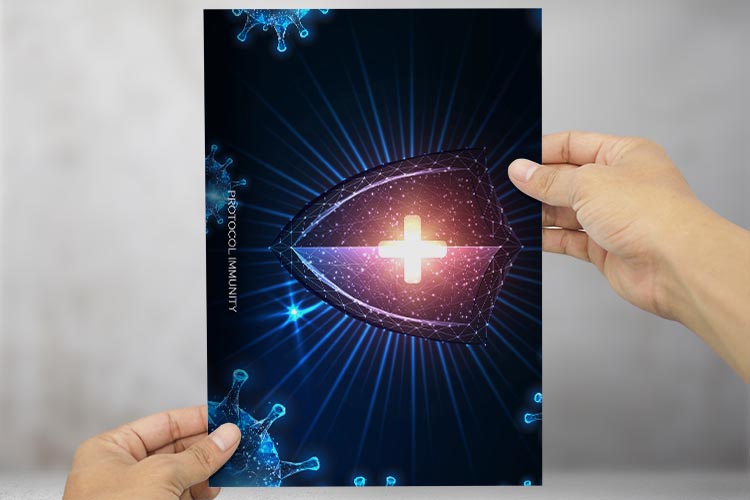 The Printable PDF version can be printed using any desktop printer, and the prints will carry the amplified energetic signature of the app. The following are just a few of the unique and versatile ways you can use the prints:
Place the prints under your seat cushions, mattress and pillow.
Place the prints under any power cord (printer, computers, power strip, lights, etc.).
Place the prints under refrigerator cord and/or inside refrigerator: the energy will be infused into your food.
Tape the prints to your fuse box: the energy will be carried by everything in your home that is powered by electricity.
Fold the print and carry in your pocket.
Charge food, water and supplements.
A single print is very strong. But the more prints you stack together, the stronger the energy will be.
The Silent Energy Audio comes in 320 kbps MP3 format and can be played on any mp3 player or mp3-compatible device or media application. Just push Play, and the energy of Protocol Immunity will immediately begin broadcasting through your device. Play it silently on repeat throughout the day whenever you want to boost your immune system.
Play on repeat in the background as you go about your day.
Although there is no sound, playing this silent audio produces a VERY strong broadcast of energy.
VERSATILE: The Silent Energy Audio can be combined with your favorite audio and video to create a powerful energetic experience with your favorite music and movies. Simply play the Silent Energy Audio on your chosen device. Then, on the same device, open and play your favorite music or movies using the media player or streaming service of your choice. Now, your favorite music and movies carry the energy of Protocol Immunity.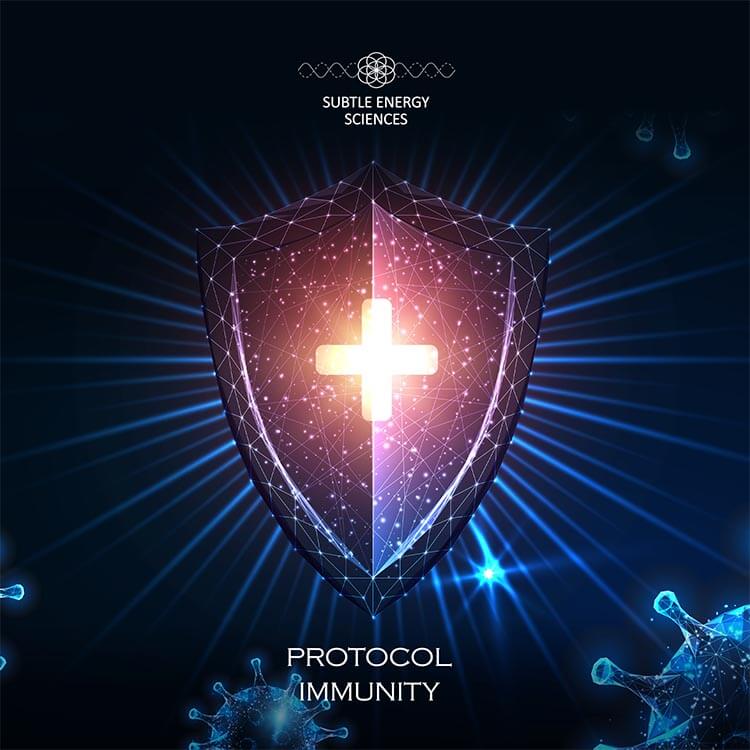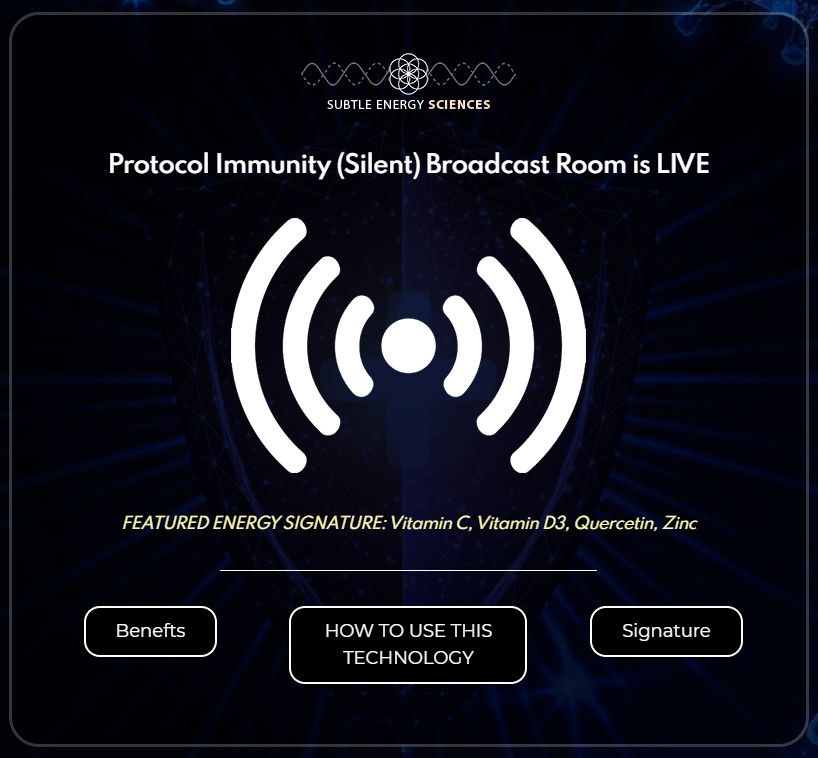 Nothing to download | Easy to use | Click and enjoy
Web App (nothing to download)
The Protocol Immunity web app makes enjoying amplified immune-boosting energy incredibly simple and easy by using any device able to access the Internet. 
Simply click the web app link posted on the Protocol Immunity download page.
As soon as the Broadcast Room web page opens, it immediately begins broadcasting a highly amplified energy signature through your device.
Nothing to download.
Simply click and enjoy.
Just keep the page open in a tab in your browser.
No need to actually LOOK at the page in order to benefit from its broadcast.
Minimize the page and work in other windows.
As long as the page remains open in any tab, the energy broadcast will continue, even when you're working in other windows.
Fully amplifiable: make the broadcast as powerful as you wish.
Combine the Broadcast Room with your favorite music and movies. With the Broadcast Room open, simply stream or play your favorite music and movies on the same device; and all the energy of Protocol Immunity will be carried by your favorite music and movies.
Energetic Encoding Technology
Powered by Energetic Encoding Technology
"I had never heard of the Zelenko Protocol before, but I was very interested in the description. Moreover, it coincided in time with the onset of malaise (cough, fever etc.). So I started using this mandala and audio every day for much longer than recommended (2-6 hrs). During this time, I not only got rid of the unpleasant symptoms of the onset of the disease but also received a good boost of vivacity. I really liked the impact of the Protocol Immunity!"
~ Sergio Pawlowski
"I have been charging water with PI silent audio x 12hrs. for the last 5 days. I have had about 30-40 ounces of the charged water on each of those days. I have experienced a number of effects including a distinctly stronger flow of subtle energy throughout my body, an enhanced sense of well being and noticeable reduction of allergy related sneezing etc. I feel that it would be worthwhile to substitute a number of the supplements that I take with the PI mandala and silent audio.I plan to do this because I think its very likely that the PI tech will be more beneficial and making this substitution will undoubtedly save me money!"
~ Kevin Creegan
"This one's heaven-sent! I've been experiencing chronic tooth pain, awaiting some major dental work, and this completely evaporated it. I keep it on during the days and the pain hasn't returned. My over all immunity is up, skin is clearer, and my energy levels more stable despite the long hours I've been working for multiple clients. My new go-to for when I'm feeling stressed and run-down physically."
~ Joness Jones
"Using it almost daily, I keep returning to this mandala. It gives me a good healthy feeling. 2 Mandalas for 30min are enough for me. 
"
~ Paul Ennemoser
"I had 1 copy of the mandala up on my phone and within 3 minutes, felt it was easier for me to breathe. Like, there was more air available in the room, if that even makes sense. For those of you who have/has asthma, it's like the feeling of having taking a puff of albuterol from the inhaler and when it kicks in several minutes later. It has a similar feeling but the great thing is, the inhaler wasn't needed. I'm going to continue to have this up and explore more. Thanks so much!"
~ Pete Lee
"I have felt like shit all day now – for almost 12 hours after getting the vaccine. This mandala is the only thing that has helped me besides laying down & getting rest."
~ James Kinney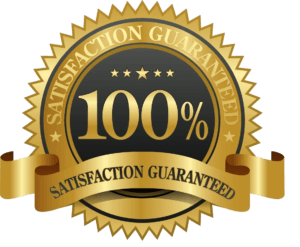 90 Day Satisfaction Guarantee
Still unsure? Don't decide now. Take all the time you need and try it for a full 90 days. If for any reason you're unsatisfied with your experience any time within 90 days of purchase, simply email us, and we'll refund your money immediately after verifying that you tried using the program.
Quantum Resonance App (aka "mandala")
A complete immune-boosting formula powered by quantum technology.
Includes5 digital (audio and image) files + online web app. The energetically encoded files can be used offline with any smart phone, tablet, laptop, pc, mac or mp3 player. The web app can be used online, without needing to download anything, via any Internet-compatible device.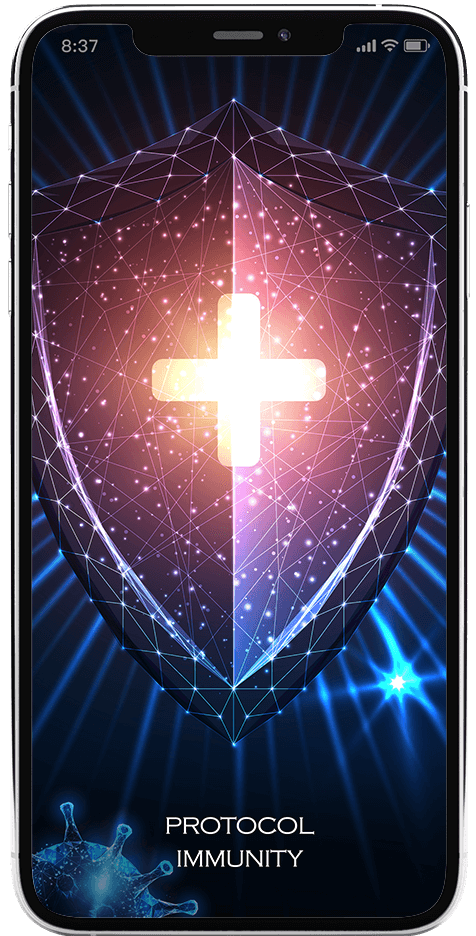 DISCLAIMER: These results may not occur for everyone. These products are powered by subtle energy, and some individuals may be less sensitive to subtle energy (and to this product as well) than others. In fact,  roughly 20% of individuals who try this kind of technology initially experience little to no effect, unless they amplify the energy of the products substantially. Even then, a smaller percentage of people will still fail to notice a huge effect. Again, this appears to be due to the fact that sensitivity to subtle energy varies among individuals. Many people respond very strongly to this technology, and some do not. That said, this technology and its results are fully amplifiable using easy-to-follow instructions provided on the product download page and on our official Instructions page (https://subtle.energy/instructions). And this amplification capacity means that, if you don't experience your desired results in the beginning, you can easily amplify the energy of this product until you finally achieve the results you desire. And if the amplification still doesn't produce the results you're looking for, we offer a pain-free 90-day money-back guarantee should you find that this product does not produce your desired results.
Furthermore, given that we recognize some of the limitations of this technology as it relates to the aforementioned subtle energy insensitivity threshold, we are especially dedicated to improving this technology and making it more effective for more and more people, no matter their sensitivity or insensitivity to subtle energy. We believe it is possible to eventually overcome this hurdle, which is why we continue to upgrade this technology and all of our products every year or two. And to show our immense gratitude for being able to develop this technology for our customers, we offer every upgrade free to existing owners of those products. That means that if you purchase this product, every time we improve it and increase effectiveness, we will send you that upgraded product for free, no matter how many upgrades it may receive over the years.
All that being said, we sincerely appreciate your business and support, and we gladly honor our 90-day money-back guarantee, no questions asked.
Subtle Energy Sciences products are not meant to diagnose, treat or cure any health condition, nor make or imply any health claims.