Quantum Resonant Aromatherapeutic Body Oil
Uplift body, mind, heart & spirit with
3 different 100% organic oil blends!
LIMITED SUPPLY, PRE-ORDER NOW: SHIPS OCTOBER 18TH
Encoded with the Energetic Signature  of Quantum Shen to support:
A peaceful state of mind

Enhanced flows states

Kindness & gentility

Increased focus and presence

Anti-aging properties
NOW & ZEN Lavender & Blue Chamomile in Jojoba Oil
PRESALE: Ships December 1st, 2021
Align with the present moment by applying Now & Zen as a moisturizer or massage oil. Lavender & Blue Chamomile are two of Nature's greatest aromatherapeutic agents for deep relaxation. Carried by universal moisturizer Jojoba to restore skin.
BENEFITS

Organic Lavender Oil can help relieve;
anxiety, agitation, acne breakouts, eczema & psoriasis,
nervousness, inflammation, restlessness, trouble sleeping
Blue Chamomile Oil can help relieve;
anxiety, skin irritation, pain, trouble sleeping
Encoded with two Subtle Energy signatures:
Golden Proportion
– Harmonizes & relaxes body + mind
– Encourages alpha brainwaves


AU Gold:
– Increases mental clarity
– Supports healing
– Naturally uplifting
GOLDEN ONE Frankincence, 24k Gold & Myrrh in Jojoba Oil
PRESALE: Ships December 1st, 2021
Gift your skin Golden One for massage & moisturization. Frankincense, 24k Gold, & Myrrh uplift as soothing Jojoba restores.

BENEFITS
Frankincense, dubbed "the king of essential oils", may help relieve; arthritis, asthma, anti-aging, antimicrobial, anti-inflammatory, restores skin, adds shine to hair / balances scalp, exhibits anti-cancer properties
Used in ancient religious ceremonies for centuries!
Myrrh; Promotes youthful complexion, antioxidant, deeply relaxing, provides respiratory relief when inhaled
Historic documents show that Myrrh was so valuable, at times, it was worth its weight in gold!
Culinary-Grade 24k Gold when applied to the skin can; reduce skin damage, stimulate circulation, prevent signs of aging, help with skin elasticity, soothe inflammation, give you a literal "glow"
Infused with the Subtle Energy signature of Awaken the Mind to promote:
Brainwave patterns that support creativity
Relaxation without drowsiness
A state of bliss
RISE & SHINE

Ginger & Grapefruit in Jojoba Oil
PRESALE: Ships December 1st, 2021
Awaken your senses with Rise & Shine  as a moisturizing body or massage oil. Ginger & grapefruit* energize as Jojoba soothes skin.
BENEFITS
Ginger Oil provides: antioxidant / anti-inflammatory properties, soothing, warming comfort, antiviral, antibacterial benefits
Great for abdominal massage if you're experiencing digestive issues!
Grapefruit oil is a common ingredient in cosmetics, as it can: add shine to hair, work as an antimicrobial / antifungal, clarify skin
Used to increase motivation in aromatherapy.
*Although it is unlikely, grapefruit oil may increase skin's sensitivity to direct, prolonged sun exposure. Wear sun-protective clothing if needed, avoid sunbathing after application if skin sensitivity is a concern for you.
When working with essential oils on skin, dilution in a carrier oil ( jojoba ) is often needed. This blend leads with ginger, to keep the grapefruit oil at a level below the established guidelines to ensure this oil is as safe for as many skin types as possible.
Enjoy mindfully.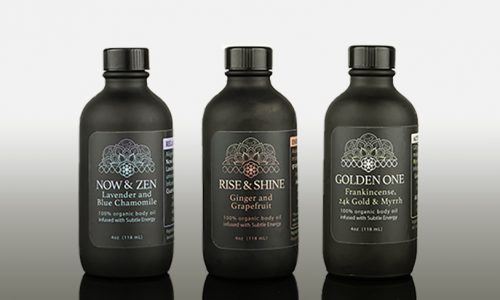 PRESALE: Ships December 1st, 2021
Energy Healing in a Bottle
Now you can deliver the benefits of Subtle Energy technology directly to your skin!

Our formulas are made of 100% organic essential oils, diluted in universal moisturizer jojoba.
Nature's Gift to Your Skin
Why Jojoba? This oil is a wax ester that mimics sebum – the main component of the oil your skin produces naturally. Because of its light chemical structure, it's less likely to clog pores or become greasy.
"Jojoba oil is rich in natural fats that mimic those in the outer layer of the skin. This means it can help the skin retain moisture and heal itself." –  Joshua Zeichner, MD,  Women's Health Magazine
Refresh, Restore & Balance
Wether your skin is dry or oily, jojoba can offer relief. Because it's so close to our skin's natural oil, it can help to reduce the overproduction of oil on the skin. For dry and dehydrated skin,  jojoba oil moisturizes by deeply sinking into the skin.
Jojoba oil has been shown to;
Calm skin inflammation

Supports wound healing

Soothe eczema

Exhibits anti-fungal / antibacterial properties

Hydrates dry hair and scalp
Antioxidant & Anti-Aging
Jojoba can protect and shield skin from free radical damage. This helps to prevent collagen breakdown, which is a prime contributor to wrinkled, tired skin. It's filled with vitamins E and B that can assist in protecting you from environmental toxins. 
Boosted by Subtle Energy Technology
This is the first official skincare line infused with our proprietary Subtle Energy Signatures. Deliver the added benefit of this technology directly to your cells to enhance your subtle energy body as well as your physical body. 
Powered by Energetic Encoding Technology
STORAGE: Store in a dark, dry place. Do not store in a bathroom cabinet for best product longevity.
DISCLAIMER: These results may not occur for everyone. These products are powered by subtle energy, and some individuals may be less sensitive to subtle energy (and to this product as well) than others. In fact, roughly 20% of individuals who try this kind of technology initially experience little to no effect, unless they amplify the energy of the products substantially. Even then, a smaller percentage of people will still fail to notice a huge effect. Again, this appears to be due to the fact that sensitivity to subtle energy varies among individuals. Many people respond very strongly to this technology, and some do not.
Subtle Energy Sciences products are not meant to diagnose, treat or cure any health condition, nor make or imply any health claims. Due to global circumstances, we can not refund or exchange any oils purchased.